View Other Content
Search Articles
Recent Articles
0
Caravan Stories (キャラバンストーリーズ) Trophy Guide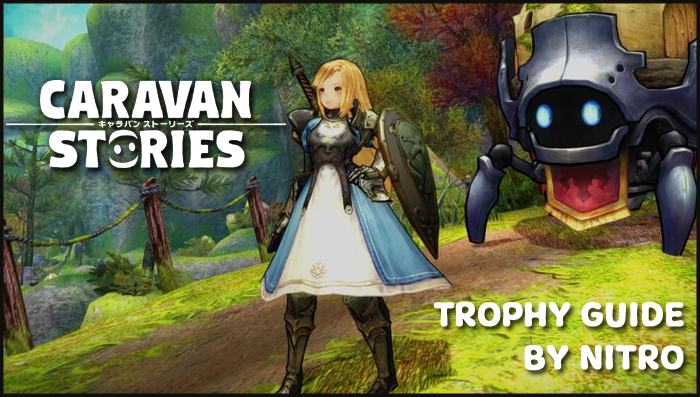 Overview:
Estimated trophy difficulty:
Offline trophies: 6 (2 , 2 , 2 )
Online trophies:
Approximate amount of time to 100%: 0.5 - 1 hour
Minimum number of playthroughs: 1
Number of missable trophies: 0
Glitched trophies: Yes but in a good way. See Quest for Companions
Does difficulty affect trophies?: N/A
Do trophies stack?: No
​Introduction:
Caravan Stories is A Free-To-Play RPG that is currently available exclusively to the Japanese storefront. It has a very easy 100% which should not take you over an hour. This is a similar style game to Pokemon where you can capture creatures and allow them to fight with you but you won't be exploring the mecanic much.
TIPS & NOTES:
-Always use the Auto-Run feature. This will run your character to the required location or next load screen. It makes this 100% so easy.
-If you do want to stop the Auto-Run for whatever reason (like picking up a material/XP boost from the floor), just move either:
or
and it will cancel the auto-run.
-To go to your next objective/quest, press
>
x4
-I suggest using all XP boosts possible on your main 3 characters (You, Mage and Healer), it makes boss battles a lot less of a hassle
Article: Caravan Stories (キャラバンストーリーズ) Trophy Guide