View Other Content
Search Articles
Recent Articles
0
PS4 Pro Review and Discussion
Nov 07 2016 11:44 PM | Tenshi in
Reviews
Introduction:
Hello PS3imports, I'm Tenshi and this'll be my second Hardware Review for you guys and gals. Today I'll be reviewing the PlayStaion 4 Pro, the most powerful console ever built at this time of writing. My intentions are to inform, answer any questions you might have, and provide a thought out, somewhat wordy, opinion on why you should or shouldn't upgrade/jump into this piece of tech. If paragraphs aren't your thing don't worry, I'll have a "pros and cons" list down at the bottom. Remember a review is just a long-winded opinion, if you disagree don't take it personally! You're free to voice counter-opinions. Just as a disclaimer, I'm not a professional writer or journalist, I am compensated in no way for my reviews. Thanks for your time and Enjoy!
(This Review is aimed mostly at users still rocking 1080p TV/Monitor sets since that's what I am using. I'll try to touch on 4K as well, but you will most likely need a 4K Screen for best results. As a warning, this review will be image heavy considering the need to show the difference between Pro and Regular model PS4's.)
================
Part 1: What's in the box, and Specs.
So what's in the box?
PlayStation 4 Pro Model #: CUH-7000

Power Cord.
User Manuals
One Dual-Shock 4 Controller (New model)
One Micro-USB cable
One High-Speed HDMI Cable
A cheap single ear Mic for online chat.
About what you'd expect, everything you need to get your console experience started.
Let's check those specs.

A Custom x86-64 8 Core AMD "Jaguar" (Clocked @ 2.13GHz, OG PS4@ 1.6GHz)
AMD Radeon based GPU w/ 4.20TFLOPS of power. (A 128.3% increase over Regular/Slim PS4)
8GB of GDDR5 System Memory
1 GB DDR3 Ram (Reserved exclusively for System UI and App-switching)
A 1TB 5400 RPM HDD (Default at launch)
Blu-ray Drive, 6x Speed for BR, 8x Speed for DVD.
3x USB 3.1 Ports
Specs wise, PlayStation 4 Pro is an upgrade in every conceivable way compared to the standard and newer Slim models. I'll get specific in the next section but hot damn! Just take those specs in! At an entry price of $399(USD) you'd be hard pressed to get power like this out of anything else currently. The addition of 1GB DDR3 Ram is exclusive to Pro models, and I'll detail that as well. Unfortunately games without a Pro patch will not be able to take advantage of the extra horsepower and so for legacy games the PS4 Pro will shut off half of it's GPU and downclock itself to Standard PS4 clockspeeds. PS4's lead designer, Mark Cerny, says this is to prevent random glitches in older games which are programmed for very specific clock speeds and parts. Considering how closed off consoles are, I think we can trust his words. It should be noted that in official Sony documentation all games after Sept. 2016 should be shipped with a Pro patch. Whether they actually enforce this, well, we'll just have to wait and see. (So far, the future looks bright though!)
================
Part 2: What separates the Pro from the Slim/Regular?
Well the short of it is that it's a much more capable PS4. In this section I'll break down the technical aspects and get into the details for you. This part might be a bit overwhelming if you're not familiar with some technobabble and short-hand I like to use. If you tend to be technology illiterate remember that you're free to ask questions after the review!
CPU, GPU, and Custom Chips:
Let's start with the consoles CPU. Here what we actually have are two Quad-Core AMD designed "Jaguar" CPU modules which work in tandem, as if they were a single 8-core unit. These are clocked at 2.13 GHz (compared to 1.6GHz of the original PS4) for a theoretical peak performance of 134.4 GFLOPS. (OG PS4 peaks at around 102 GFLOPS). Nowadays the CPU of consoles generally tends to be the weakest part, and this is not without consequence. Fortunately for the Pro we are looking at a decent boost. It's nothing ground-breaking, but this higher frequency CPU will absolutely allow for a more stable frame-rate in games which are patched for Pro support. We should also see quicker processing of background tasks, and should developers pursue it, some more graphical effects which tend to be more CPU than GPU bound. These effects include but are not limited to: Draw/View distances, Amount of Objects on screen (think more people in crowds in AssCreed games), Certain Anti-Aliasing Techniques, and Particle Physics. Of course there are non-graphical upgrades too, one could be better A.I. but I imagine Sony wouldn't let that happen on account of wanting games to be equal among all PS4 users in every department but graphics.
Next up the GPU. Sony and AMD have basically shrunk (from a 28nm process to 16nm) and then doubled the original PS4's GPU. Here we find 2,304 cores spread across the PS4 Pro's 36 Compute Units (64 cores per CU). The GPU in Pro mode is upclocked to 911 MHz, compared to the originals 800MHz. This puts the Pro's theoretical peak performance at around 4,197 GFLOPS. Generally you'll see this rounded to 4.20 TFLOPS though. Overall you're looking at a 128.3% increase in graphical and compute power as compared to the Original and Slim model PS4's. Sony has more than doubled available power to Game devs.
Custom Chips: Like all PS4 models before it, the Pro includes several custom chips on it's motherboard. Sony have never really detailed many of these for security reasons, but we know about the following.

Separate Audio Processing Unit: Similar in nature to AMD's TrueAudio
On-die Memory controller responsible for maintaining the shared 8GB GDDR5 memory pool.
An Auxillary ARM-Processor with it's own pool of 256MB Ram, to assist with OS features and background tasks.
Baked into the PS4 Pro's GPU is a hardware level feature which helps the "checkerboard" rendering technique, making it easier to implement. (Details are VERY scarce on this feature at the moment.)
Graphics:
This is likely the main draw of the review. Arguably this is the section that will make or break it, entice you to upgrade or push you towards waiting. As a warning you should note that I cannot demonstrate true HDR benefits to you without an HDR Capable screen. HDR is a technology still in it's infancy, and sadly, the price of your TV likely dictates the quality of HDR you'll see. Cheaper sets will have cheaper implementations and expensive flagship TV's will have seemingly eye-melting, super bright, but very life-like implementations. If you'd like to read about HDR see here: http://www.digitaltr...-tvs-explained/
Let's talk about downsampling. Sony refers to this as "supersampling" lately, but the process has been around on PC for ages and we say "downsampling" because what your device is doing is taking an image being rendered internally at a higher resolution and scaling it down to your displays actual resolution. This generally results in a massive boost to overall image clarity and quality. It is currently the best possible form of anti-aliasing, and tends to add details on screen because you are compressing more pixels.
What PS4 Pro can do for you on a 1080p TV: Are you ready? (Click pictures for full-resolution)
PS4 Pro Titanfall 2

Regular PS4:

What you're seeing on the Pro version is better shadows, better lighting, better foliage, a lack of jaggies thanks to better AA, better texture details and less blur. What I can't show you in still images, is the FPS, and Titanfall also gains a SOLID 60 FPS on the PS4 Pro. (Compared to 60FPS with drops on OG PS4.)
COD4 Remaster FPS Comparison (via DigitalFoundry)

Paragon:
Regular PS4:

PS4 Pro:

Skyrim 4K Mode downsampled to 1080p
Skyrim on a Regular PS4
Horizon Zero Dawn @ 4K on Pro: (Best viewed on 4k display)

Horizon Zero Dawn Downsampled to 1080p on Pro: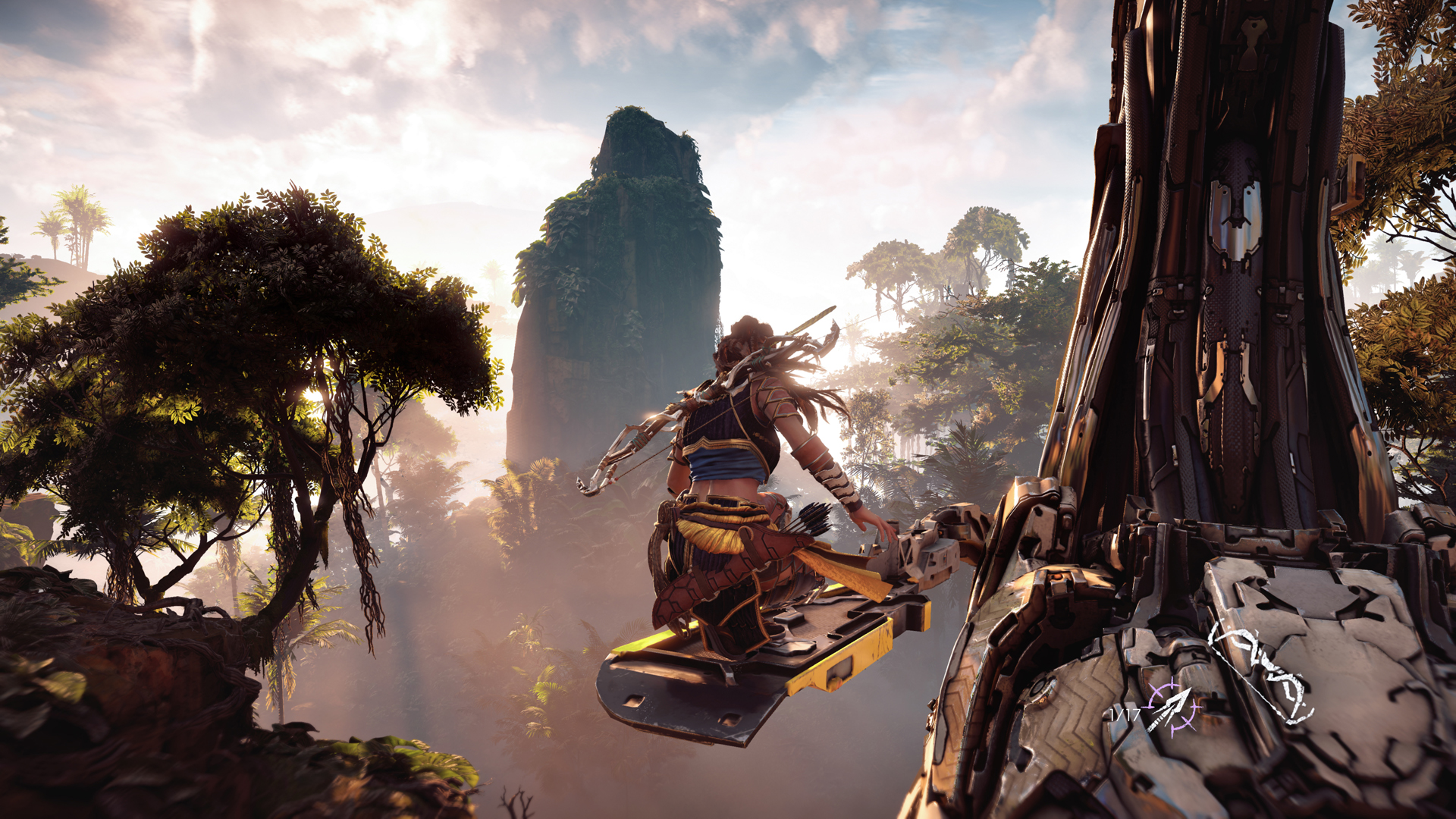 Notice here that in the 4k shot you get a great amount of detail but Aliasing and edge artifacts are present. However in the downsampled shot your jaggies disappear and the IQ is cleaned up. Of course some finer details are lost, but this is why I argue that 1080p TV owners will actually get the better deal with PS4Pro. (Not to downplay how much of an improvement it will be for 4K TV users.) The important thing to keep in mind here is that this is just the beginning and these examples are just a few of many already floating the net.
Here is a list of games already prepped for Pro's launch: http://blog.us.plays...ps4-pro-launch/
The benefits don't stop there, for VR games we also tend to have better... well everything. Most importantly for VR, higher and more stable FPS.
PS4 Regular

PS4 Pro


(Here, lighting will depend on where you are in the tunnel, but focus on the dashboard and road edges, the brick pattern in the back, etc...)
Weight, Look, and Balance:
The PS4 Pro is slightly heavier than it's original counter-part. Sitting at around 7.3 pounds, while the newer slim manages a cool 4.6 pounds. I can't imagine this will matter to too many people, a home console doesn't tend to be something you carry around often... right?
As for looks...
I've heard mixed opinions on it. Some compare it to a big mac, but personally I think it falls in line with the PS4 design philosophy just fine. It's tiered, it's sleek, and it's obviously a part of the PlayStation family. I like that they kept the LED strip, it has been moved though obviously. An important note here is that those old touchy capacitive buttons are gone and they are now replaced with actual clicky mechanical buttons. No more accidental disk ejects or power offs! No more static build-up!
Remember how your old PS4 did this?
The wobble was caused because the original PS4 only had 3 feet and they weren't very stable. This was a wide-spread complaint, if a bit overblown. Worry not however, the Slim and Pro models now come with 8 feet for maximum stability! (Somewhat joking lol)
Power and Extra USB:
The PS4 Pro is manufactured from new parts and on a smaller process than the original model. Like the slim Sony has opted for a 16nm process to create the APU and other parts which run the PS4. Overall this has led to more energy efficiency, except when running games in their Pro modes. This lines up of course with the increase in soecs. The PS4 Pro's has a stronger power supply, rated for 310 Watts total. You'll also notice that because of this it comes with a heavy-duty power cord similar to what you saw with "Phat" PS3's.
(Thanks Eurogamer)

Also of note, the PS4 Pro is the only model to sport 3 USB ports. Specifically the Pro's extra USB port is in the back, and this is perfect for those of you wanting to hide some of your PSVR wire mess.
HDD and Memory:
All PS4 Pro models will be launching with a 1TB HDD as a standard. What's interesting though is that exclusive to the PS4 Pro model, Sony has opted for a SATA III port as the HDD connector. In theory this will allow the PS4 to better take advantage of faster HDD/SSD's that you can install yourself.
System Memory remains the same 8GB GDDR5 pool as the standard PS4, although bandwidth has increased to 218 GB/s which will help the Pro load better textures on screen faster. A 1GB DDR3 segment of memory was added exclusively to the Pro model which is dedicated for App-switching and hosting high-res UI elements. Mark Cerny later revealed that it also frees up to 512MB of the 8GB GDDR5 RAM which was previously held in reserve by the system for these things. This means developers will be able to use an extra 512MB of RAM exclusively on the Pro and this will likely go towards better textures.
Networking:
The PS4 Pro model plays host to a new Wi-Fi card capable of utilizing the 5GHz frequency that has become more common over the last couple years in high-end routers. 5GHz is a much faster frequency than your standard 2.4, and PS4 Pro is the only PlayStation console capable of tapping into that. Also of note is that because 5GHz frequency is newer, and somewhat more rare among consumers, there generally tends to be less interference on this channel in populated areas. An excerpt from NetGear on bandwidth:
"Higher frequencies allow faster transmission of data, also known as bandwidth. Higher bandwidth means that files will download and upload faster, and high-bandwidth applications such as streaming video will perform much smoother and faster. Therefore, the 5GHz with its higher bandwidth will provide much faster data connections than 2.4 GHz."
Of course if you prefer a solid ethernet connection, fret not, of course the PS4 Pro also supports a wired connection to the internet.
================
Part 3: Should you upgrade?
If you're happy with your current PS4 and plan to run it 'til it's dead than you can probably afford to put the Pro off for now. As it is, PS4 Pro is just an extension of the PS4 family. It will play all the same games as the regular PS4, and Sony has mandated that there can be no exclusives for the PS4Pro at this time. When you take a long look at all of it's increased specs and new features, and you find yourself doubting or questioning whether you need them, I would just wait. The PS4 Pro won't sell out, and it's bound to get price drops in the future. If you're one of those guys who complains about a loud PS4, I'm sad to tell you that early reviews and recordings put the Pro on the same footing as the launch PS4 in terms of noise, especially when running in Pro mode. (I believe Eurogamer recorded 55dB peak and noted it could be heard from across the room) This shouldn't come as too much of a surprise, the cost of more powerful tech is more electricity and electricity makes heat which the console needs to cool. However if you find your PS4 dead or dying, and you're not hard up for cash than the PS4 Pro becomes a no brainer, even for the doubters.
On the flip-side, if you are an enthusiast, a hardcore PlayStation fan, someone who likes graphics, or maybe you just want the best possible PS4 Experience? Then Yes, a million times, Yes. I cannot recommend the PS4 Pro enough. Not only is it a step up from the regular PS4 on all fronts, by all accounts, and for all purposes, but it is in-fact the most powerful home console ever built at this moment. Going forward all PS4 games will have a Pro patch, and though we're uncertain of what exactly those patches will increase we know it will only bring benefits. The bottom line is that PlayStation 4 Pro will be the best possible way to experience all of your console games for the time being. With block busters like FFXV, Battlefield 1, Call of Duty, and many more already promising support, you can rest assured that you'll be playing these games at their best in the home console space. I really would like to stress that at this price point, Sony's PS4 Pro is unmatched by any other consumer grade electronics, a comparable PC with all the bells and whistles would cost at least double. There are literally no downsides to upgrading if you've got the money or enthusiasm. At the very least, you're looking at greatly improved image quality, more stable FPS, and better multi-tasking.
Finally as a general reminder I'd like to point out that HDR is available on regular PS4's as well, but if you have a 4K display capable of HDR you will obviously be better suited with the Pro. With a regular PS4, you're just going to get 900-1080(ish)p images upscaled to your 4K TV. With the Pro however you'll be getting images rendered much closer to 4k, some games even native(Like Skyrim), resulting in a much cleaner and detailed picture. I have aimed this review at those of us with 1080p sets, but Sony's marketing is railing hard for 4K users and with good reason. You guys will absolutely notice a difference.
================
Part 4: The TL:DR, Pros and Cons.
Pros:
Guaranteed, no less than 1080p output on all future games.

Guaranteed enhanced graphical effects in all games patched for Pro support.

Automatic downsampling to 1080p will vastly improve overall Image Quality. (Not available on 4K displays)

That said, the higher resolutions will greatly improve 4K viewing experiences, offering much more detail.

Custom hardware chips and checkerboard rendering allows PS4Pro to punch above it's weight on 4K TV's.

More stable FPS thanks to a stronger CPU.

The best possible way to experience PS4 games will be with Pro.

Likewise the best possible way to experience PSVR Games will be with Pro.

An Extra USB 3.1 Port on the back of the machine might come in handy for VR users.

Pro is the only PlayStation console at this time which supports the faster 5Ghz Wi-Fi frequency.

An extra 1GB of DDR3 System Ram speeds up App-switching and frees up some memory for games to use.
Cons:
No UHD Blu-Ray Drive (I'm confused too, don't worry)

Technically speaking, most AAA games won't render in "Native" 4K.

Unable to boost performance of your non-patched games.

Game improvements left entirely at the mercy of developers.
================
Part 5: Conclusion
Time to wrap up my second review now. Hopefully you're walking away from this a bit more informed, it is one heck of read looking back on it. No matter how you slice it, Sony has managed to put forth a machine which improves on the normal/slim PS4 in all fronts. You simply cannot go wrong with it. I love technology and follow the Video Game industry with a great amount of passion. Even with a beefy PC like mine I simply must say, the PS4 Pro is an impressive piece of tech that belongs in every PlayStation enthusiast's collection. Going forward it will be the absolute best way to experience PS4 games and there is no way to get around that.
And now the curtains must close. As always I welcome feedback, good or bad, I'll take it on the chin! Feel free to argue my points or ask questions, I'm quite active here and I'll try to answer them to the best of my ability. Once more I thank you all for your time and hope you enjoyed this in-depth review of the PS4 Pro.
PS4 Pro is released on November 10th World-Wide, at $399, €399, £349, and ¥44,980.
Article: PS4 Pro Review and Discussion