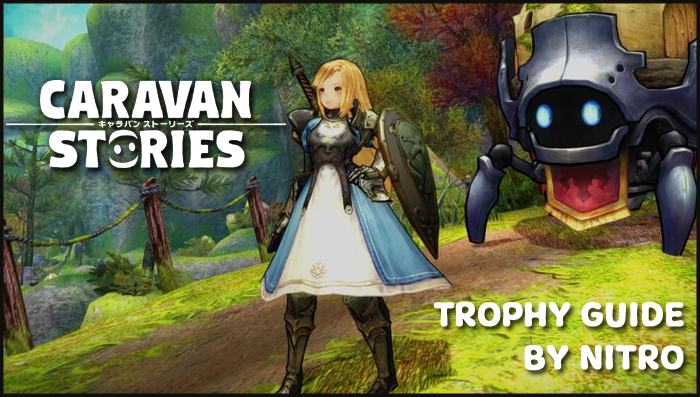 Overview:
Estimated trophy difficulty: 1.5/10
Offline trophies:
Online trophies: 6 (2 , 2 , 2 )
Approximate amount of time to 100%: 30 mins - 1 hour
Minimum number of playthroughs: 1
Number of missable trophies: 0
Glitched trophies: None
Does difficulty affect trophies?: N/A
Do trophies stack?: 2 - Asian stack and WW stack. However, the WW release has a different trophy list.
​Introduction:
Caravan Stories is A Free-To-Play RPG that is currently available exclusively to the Japanese storefront. It has a very easy 100% which should not take you over an hour. This is a similar style game to Pokemon where you can capture creatures and allow them to fight with you but you won't be exploring many of these mechanics much.
BEFORE WE START
This guide is for the written assuming you are playing the Asian Stack, not the other stack out there. If you are playing the other version, do note there is a considerable amount of grinding to be done which will easily exceed 20 hours.
TIPS & NOTES:

-Always use the Auto-Run feature. This will run your character to the required location or next load screen. It makes this 100% so easy.
-If you do want to stop the Auto-Run for whatever reason (like picking up a material/XP boost from the floor), just move either:
or
and it will cancel the auto-run.
-To go to your next objective/quest, press
>
x4
-I suggest using all XP boosts possible on your main 3 characters (You, Mage and Healer), it makes boss battles a lot less of a hassle
This post has been promoted to an article
Edited by Nitro, 16 September 2019 - 10:25 AM.
stack details