Roadmap
Overview:
Estimated trophy difficulty: 1/10 (personal vote)
Offline trophies: 25 (24 , 1 )
Online trophies: 4
Approximate amount of time to 100%: 10-15 hours
Minimum number of playthroughs: 2 + Stage Select
Number of missable trophies: None
Glitched trophies: None
Does difficulty affect trophies?: Yes, clear the Story mode on Normal and Hard mode
Do trophies stack?: None
Introduction:
Welcome to Phantom Breaker: Battle Grounds, it's a spin-off game of Phantom Breaker series. If you ever own a Xbox 360, then you may see this game on Xbox Live Arcade. Basically, the game content is the same, however, there are some achievement already removed when the game is released on Vita; therefore, you don't have to worry about those little tough trophies (or I must say achievements). This game is a side-scrolling beat 'em up in which players play as chibi versions of Mikoto, Waka, Itsuki, and Yuzuha as they fight against large groups of enemies and Phantom's minions (such as M, Cocoa, and Infinity) in order to rescue Waka's younger sister (Nagi). The game is pretty straight forward, you only need to eliminate every enemy on your way then defeat the boss to clear the stage. There are 8 stages in total (including tutorial stage), you should start the game on Normal mode then you can unlock Hard mode later. If you are thinking of getting 100% of trophy, I recommend you purchase the DLC pack as soon as you can since you can reduce the minimum number of playthroughs by using the DLC character (Kurisu) for both Normal and Hard mode runs, instead of buying it later then you have to start one more full playthrough. While playing the game, you should take note of one trophy which requires you to do certain task at time limit. Overall, it's easy game, I give it 1 out of 10 because you don't have to start the game on Nightmare mode, you still can grind EXP on Hard mode which is easy due to your high level after you finish Hard playthrough.


Basic Control:

- Move forward

- Move backward

- Crouch down
:up - Jump

- Have same functions as :dpad's: (if you change Move Type to Left Stick or Both Left Stick and Dpad in Setting)

- Weak attack

- Medium attack

- Strong attack

- Skill attack (if skill is equipped)

- Move to the opposite line
Note: Since the game uses the Japanese gaming control layout; therefore,
is Confirm button while
is Cancel button
Button Layout: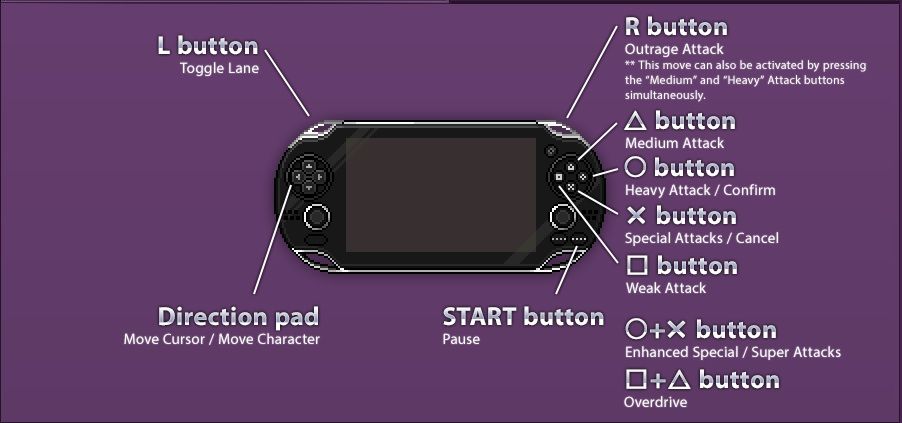 Walkthrough:
Note:
Those trophies marked with

*

are dlc trophies from Kurisu Pack (currently, it costs $5.99)
There are few ways to save the game since it's auto-save:

At Result screen after you clear a stage
Finish changing the setting
Finish change the Skill Set or Stats

You can retry to fight the boss again, in case if your character dies. You still gain EXP and don't have to replay the stage again to reach the boss. The only thing you lose is that the Score which you receive from pick the Coins, however, you don't need it for the trophies. It works the same as if the enemies defeat you, just choose continue then you can restart the checkpoint where you are defeated.
ATK and DEF are must be full in order to clear Hard mode easily.
Throwing (while close, + / ) the enemy is good way to defeat bunch of enemies who surrounding you. You can use this method to fight the bosses on Normal and Hard mode (not work on Nightmare mode since it's hard to stay close to them). You can still throw the enemy even they are still laying on the ground. Please take note that you can't use this method if you already have the first skill (Dash Attack). Basically, just aim for ATK and DEF only until you have some spare points left to equip the skills. While grabbing the enemies before throw them, you are invincible so the enemies can't attack you. You can also throw multiple enemies at same time if they are close to each others.
Since there is no trophy involves the Score; therefore, you should try to pick up Ruby gems/crystals only.
Step 1: Create the save data then read HOW TO PLAY
When you start the game for the first time, the game system will ask if you want to create a save data. You should go ahead and do it, please take note that
is Confirm button. After you can access into the game, you need to read HOW TO PLAY in Main Menu (Help & Option) or in Pause Menu during the stage.

In this step, you will unlock these trophies:

A New Battle

I think I got it!


Step 2: Start the Story Mode on Normal difficulty
Choose the Story Mode (in Local Game menu) then pick one of starting heroines: Mikoto, Waka, Itsuki, Yuzuha, or Kurisu (if you already have the DLC pack). If you have Kurisu pack, then you only need to play 2 full playthroughs in order to unlock all trophies, otherwise, you have to play one more playthrough as Kurisu if you plan to buy this DLC pack later. During this playthrough, you only need to clear every stage while trying to get many big Ruby gems/crystals as you can for EXP.

In this step, you will unlock these trophies:

Ding!

Level 25

Restoring Powers Lost...

Marvelous!

An Unexpected Train Ride

Travel to Another World

The Starting Place

Strange Things

Cocoa's Dream

Into the Country of Darkness

The Sealed Shrine

The Phantom World

Escape from the Demonsphere

Get ready! Kurisu is here. *

Level up with Kurisu *

Level 25 with Kurisu *

Clear a stage with Kurisu *

Clear the game with Kurisu *


Step 3: Start the Story Mode on Hard difficulty
Hard difficulty is unlocked after you finish the game on Normal mode. Now, it's time to play the game again on Hard mode. Since your selected character is already at pretty high level; therefore, you won't have trouble to clear this mode.

In this step, you will unlock these trophies:

Maximum Level

Perfectionism

That's Everyone!


Step 4: Play Co-op. and Battle Ground mode online
Co-op mode is the mode which allows you to co-op with someone (up to 4 players) online (or via ad-hoc) in any stage on any difficulty mode which you already finished in Story mode. While Battle Ground mode is battle royale which you have to fight against with other players (up to 4 persons). If you already have the DLC pack, then pick Kurisu as your character then you only need to do every mode once. If you don't have any partner yet, then you can find someone in Trophy Boosting Thread.

In this step, you will unlock these trophies:

As a Phantom Breaker

Like a Scavenger

Kurisu and Phantom Breaker *

Kurisu and the Scavenger *


Step 5: Grinding EXP
After you clear Hard playthrough, your character should be around level 60+. Your goal is to reach level 99 with any character; therefore, you should use the same character to grind for level. You have 2 choices to choose to grind for EXP:
Repeat the stage 6: Demonsphere on Hard mode
Start another playthrough on Nightmare until you reach stage 6, again keep repeating this stage on this difficulty mode for more EXP. You don't have to fight against the bosses since they won't give you much EXP, besides, they may be too strong for you to handle. Just let them defeat your character, the game will be auto-save at Result screen. Then just exit the current game and play this stage again, repeat it until you reach level 99. It usually takes around 25-30 minutes to clear entire areas in Stage 6, however, you will receive around 42-43K EXP which will make your character gains around 6-10 level (depending on your current level).
In this step, you will unlock this trophy:

What is This Power? *


Step 6: Clean up
If you do not try to use other 3 (or 4 if you use Kurisu during previous steps) starting characters, now it's time to do it. Select any character, then exit the game after you can move your character. You need to repeat this step for the rest of starting characters.

In this step, you will unlock this trophy:

Who's your type?