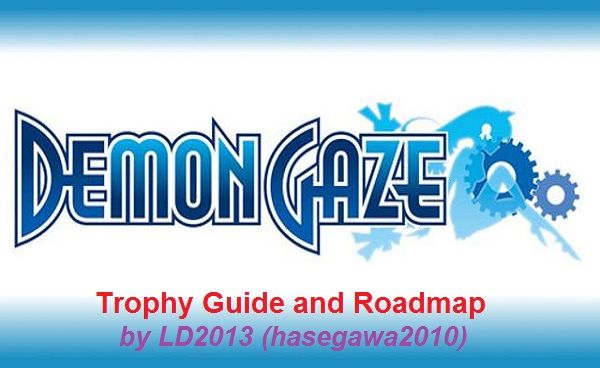 ROADMAP
Overview:
Estimated trophy difficulty: 4/10 (personal vote)
Offline trophies: 41 (25 , 12 , 3 , 1 )
Online trophies: 0
Approximate amount of time to platinum: 40-55 hours
Minimum number of playthroughs: 1
Number of missable trophies: None
Glitched trophies: None
Does difficulty affect trophies?: None
Do trophies stack?: None
Introduction:
Welcome to Demon Gaze, a dungeon crawl RPG which talks about a Demon Gaze who has an Evil Eyes that can capture demons. In this game, you can pick any class/race for your team members, you will receive different skills and abilities which depend on which class you use. You have to defeat the Demon, capture their soul, then turn them into Keys to make progress in the story. Since there are no missable trophies, you can take time to level up and look for good equipment/artifact for your characters after you finish the game. Please pay attention to collecting skull and mushroom trophies because they are required specific demon to obtain (please see attach file). Overall, it's good game, you will have fun with it.

Race
1. Human: A well-balanced, can be of any class.
2. Elf: Lack muscle, but are very smart.
3. Dwarf: Excel in physical combat.
4. Migmy: Excel in healing.
5. Ney: Are agile, but not very magical.

Class
1. Fighter: Good front-line fighters, can deal immense amounts of damage.
2. Paladin: Good front-line defenders, capable of becoming powerful walls.
3. Samurai: Lightly-armored front-line fighters, very capable with swords.
4. Ranger: Adept users of bow, low on damage, but high on accuracy.
5. Assassin: An advanced class for expert players, can be used in many different ways.
6. Wizard: Casters of battle spells, not good for close range.
7. Healer: Casters of healing spells, well-suited for the back line.

Walkthrough:

Step 1: Finish the storyline:
Start the game on normal mode (you can change the game's difficult mode later). Your goal is collect all 10 Demon Keys then defeat the final boss. While collecting these Demon Keys, you should look for mushrooms and skulls in every dungeons since you don't want to waste your time to back track these areas. You also need to collect some good equipment and artifact to fight post-game bosses. A recommended level for party members is 30-32 (or less if you have good equipment and artifacts). Don't run away from random battles since you need to fight 1000 battles for trophy and level as well.

In this Step you will unlock these trophies:

Trapped Soul

Flames of Rage

Protector of the Grave

Prince of the Forest

Healing Water

The Beautiful Woman
And it is magic

Electricity Trick

Light of Arrogance

Bewitching Gaze
Duel of the Counterparts

Peace of the Land

Under the Sea

The Closed Castle

Royal Paradise

The Transporter

Your Name Here

One Happy Family

Are These Feelings...?

Shark Party's Over

Attack the Inn

The Treasure Within

King Dar's Ring

Demon Slayer!

The Aegis in the Mirror

Pay Up

The First 100 Deaths

1,000 Battles In

Monster Masher

Industrial Monster Masher

Antiquing

Step 2: Defeat post-game bosses:
After you defeat the final boss, you can access more dungeons in Black Cage. There are a lot of puzzles in these dungeons, you can check the Maps section to see full map for every dungeon. After you defeat the boss in Black Cage, you can access to the last dungeon in the game where you can grind for rare item/equipment. You should use 4 Nameless gems in every Circle (first 4 Circles) to get new unique weapon/item; repeat until you don't see new unique item because you need EXP to level up and unique items to reduce the time to collect a rare katana later. You need to defeat 12 bosses (most of them are in pair) in a row (you can go back to previous dungeons to save the game) to reach the final boss in this dungeon. A recommended level for party members is 40-45 (or less if you have good equipment and artifacts)

In this Step you will unlock these trophies:

Keeping the Keeper

Trial of God

Step 3: Farming two type of Muramasa:
These trophies are the most time consuming in this game. However, you can reduce the time to grind if you collect a lot of unique items & equipment in the last dungeon, then you can have a high chance to get these katana. Use the first Circle (Dark Comet & Astro) to grind these trophies, reload if you don't receive any of them.

In this Step you will unlock these trophies:

Muramasa

Beyond Muramasa

Step 4: Clean up:
If you miss any of these trophies, please refer to the specific trophy's description below.

In this Step you will unlock these trophies:

Model Resident

The Disgrace Award

The Ultimate Gear

Supreme Gear

Seasonal Change

Demon Gazer

Tips:

* Look for a Healing Staff (or any staff with MYS+ #) as soon as you can because it's an unlimited healing item in this game. You can buy a Healing Staff (450 G) at Item Shop in the Inn.
* Chronos Key should be equipped all the time since it protects you from damaged floors (except electrical wall) and boost your party's defense.
* Summon Mars in any boss battles; she can kill the boss quickly.
* Save the game whenever you occupy a Circle.
* Gazer with True Snipe artifact: to use his Jupiter Bane each turn until getting hit.
* Healer with Fast Cast artifact: can boost Hit and Eva for party members quickly. Healer also has a good skill: Holy Shield.
* Paladin's Devotion: to protect party members.
* Assassin's Cross Fix: to seal monster/boss for 2 turns.

Skills need to be activated before you fight any boss: Whistle (Gazer's skill), Force Avoid and Force Hit (Healer's skills).

Item:
1. Fake Doll (500 G): Protects against one kidnapping.
2. Poinee Doll (10000 G): Dies in place of a party member.
3. Demon Vase (1000 G): Removes magical effects
4. God Hand (rare item): Use to summon a miracle (save it for strongest boss)
You can get this item in Black Cage - Aries' Cell (X:19 Y:04)

Artifact:
1. Fast Cast: Can cast a same spell twice in one turn.
2. True Snipe: Can use Concentrate skills each turn until getting hit after concentrating EX.
3. God's Arms: Can equip all weapons in either hand except Bow.
4. Dual-Wield: Can equip any kind of weapon in both hands except 2-hand/dual weapons.
5. Astro Force: Physical attack range at Maximum.
6. Killer Edge: Have a chance to Instant KO an enemy except boss with a physical attack.
7. Mars/Jupiter Bane: Can unleash 4/5 powerful attacks on a single enemy after concentrating.
There are more good Artifacts in the game, however, you can beat the game with above Artifacts.

Stats:
1. Fighter: STR, AGI, and VIT (Offensive class).
2. Paladin: VIT (until Max), AGI, and LUC (Defensive class).
3. Samurai: STR, AGI, and VIT (Offensive class).
4. Ranger: STR, LUC, and AGI (Offensive class).
5. Assassin: LUC, AGI, and VIT/STR (Sealing/Offensive/Supportive class).
6. Wizard: INT (until Max), MYS, and VIT (Offensive/Support class).
7. Healer: VIT, MYS, and AGI (Support class).
8. Gazer: VIT, AGI, and STR (Summoner & Offensive class).

Here is my party, I beat the game with these equipment/artifact and levels.

Gazer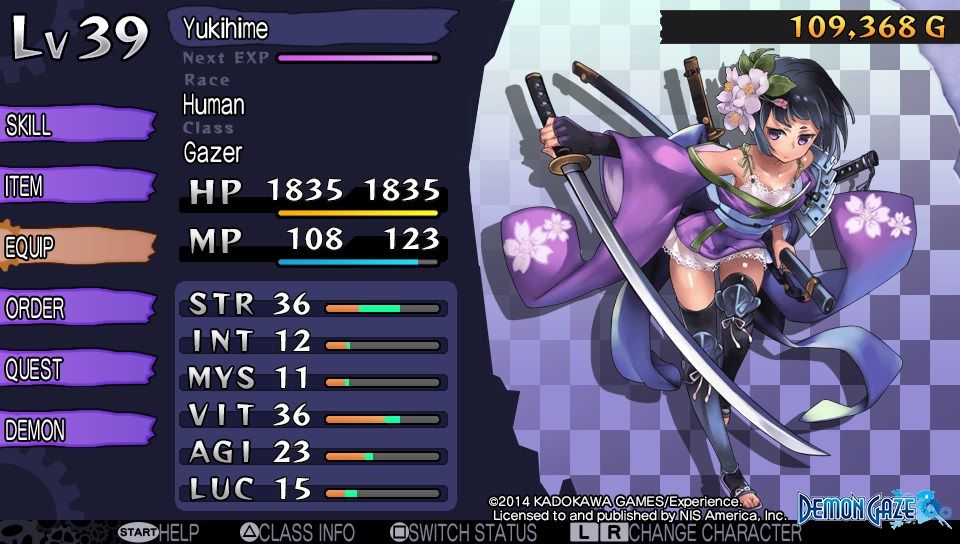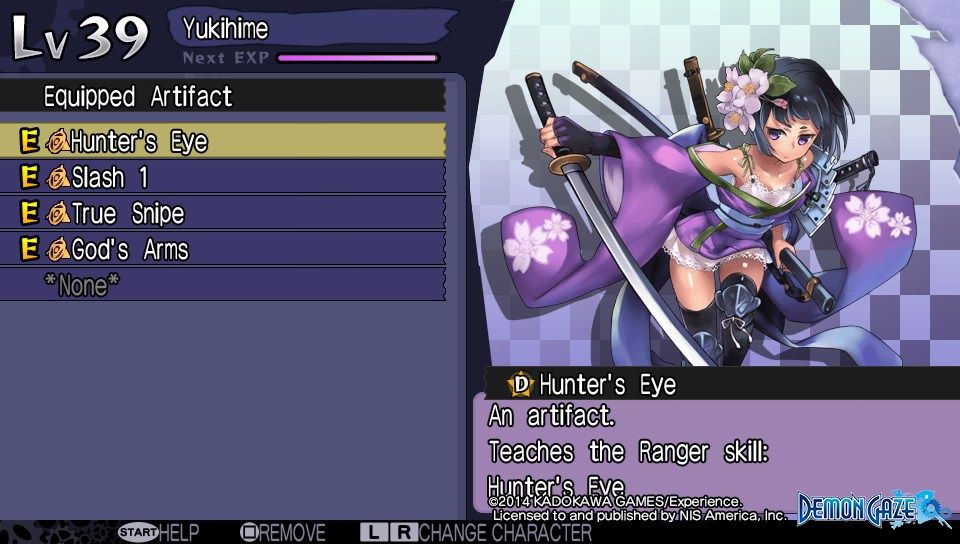 Paladin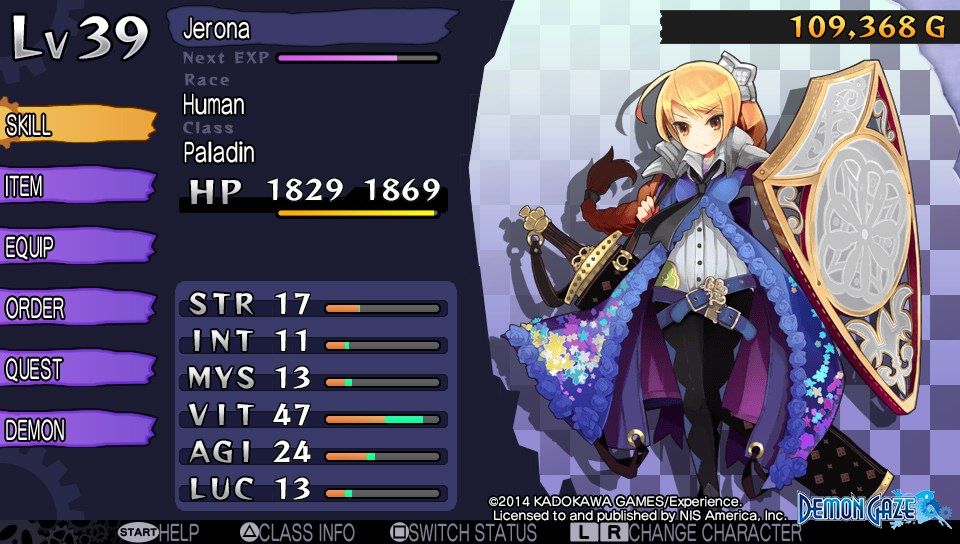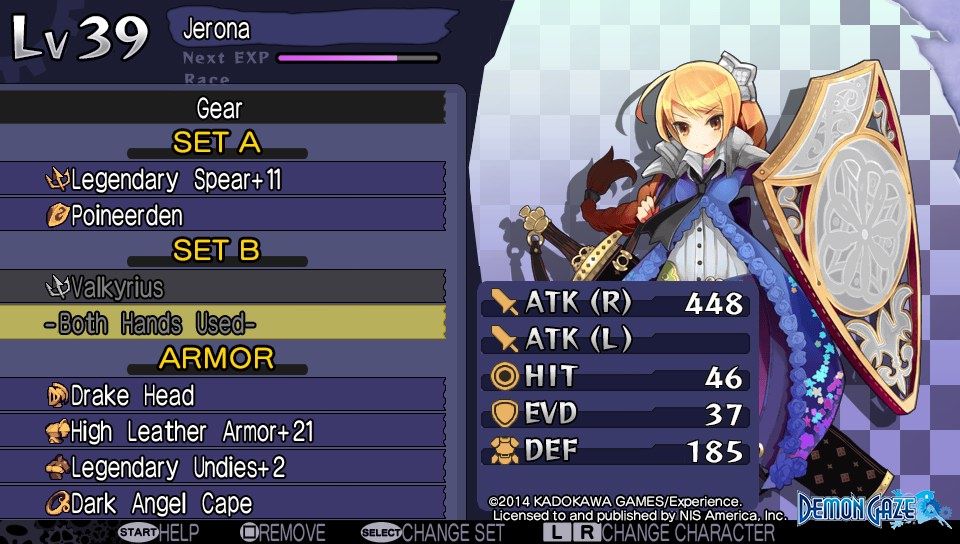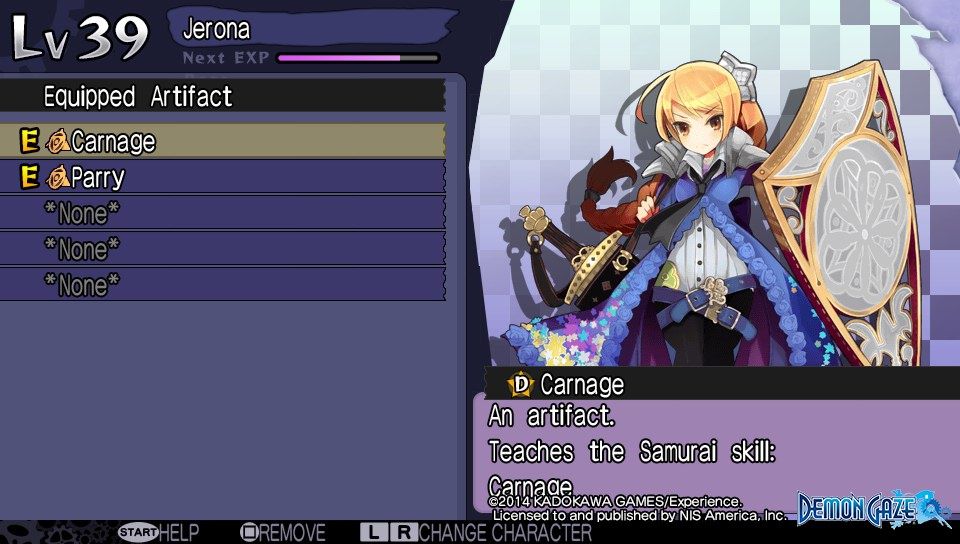 Healer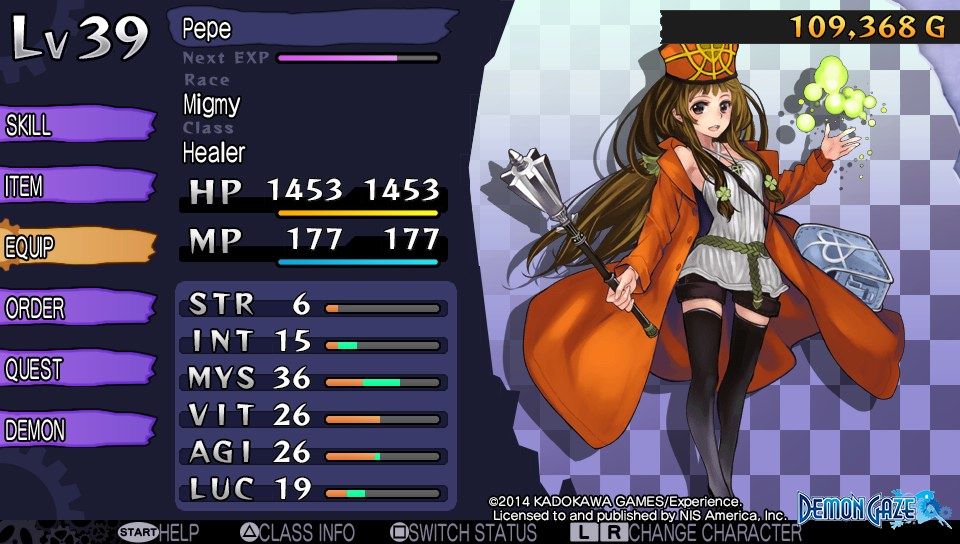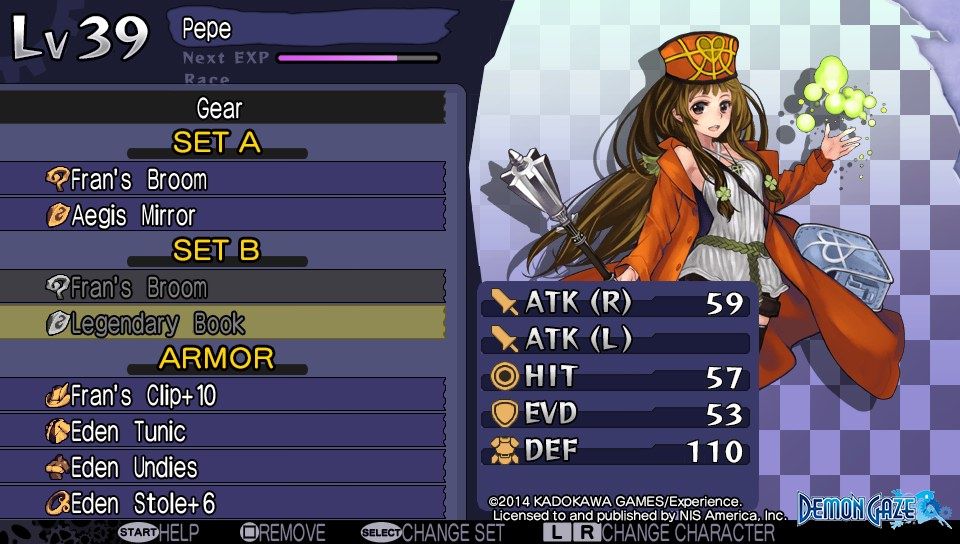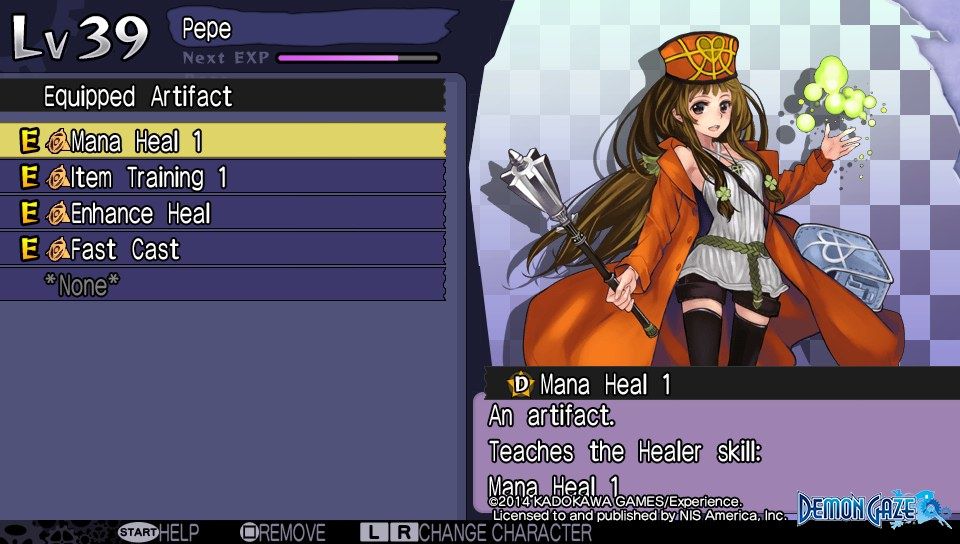 Ranger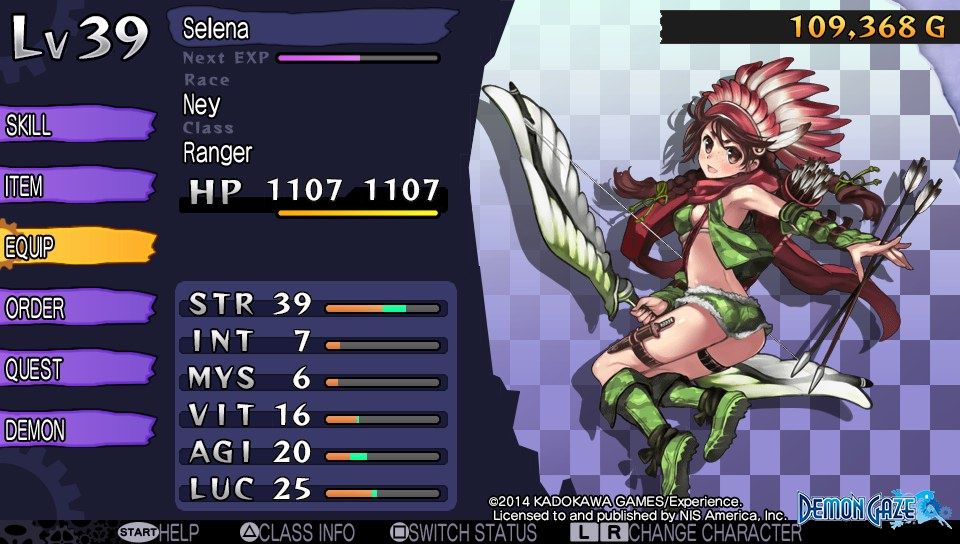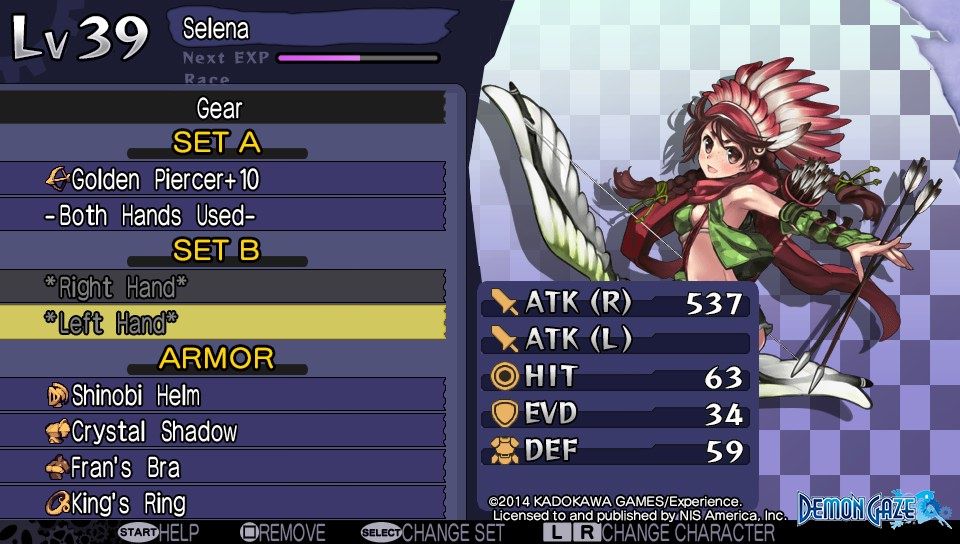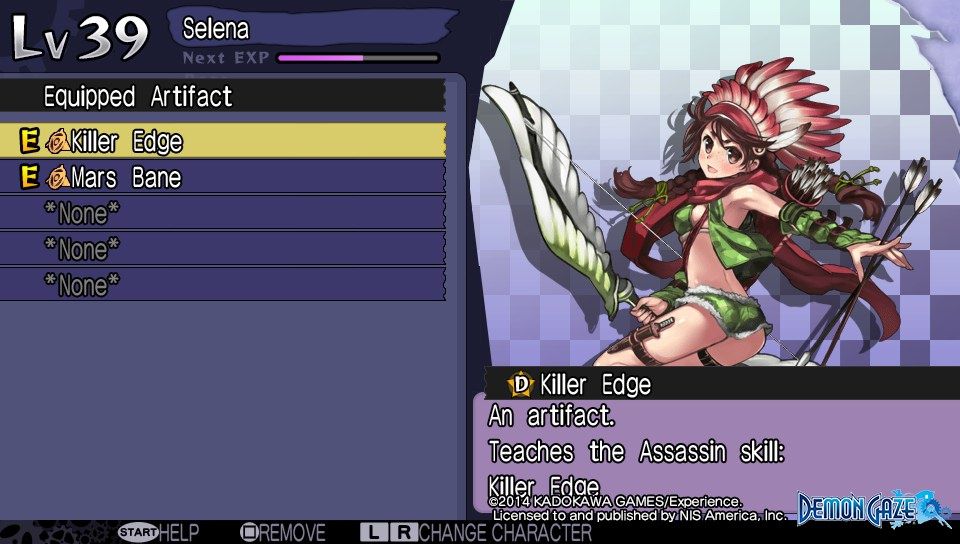 Assassin