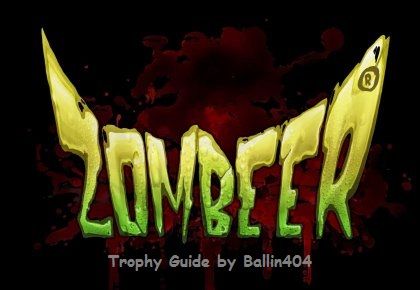 Overview

Estimated trophy difficulty: 3/10
Offline trophies: 12 (8
, 3
, 1
)
Online trophies: none
Approximate amount of time to 100%: 3-5 hours
Minimum number of playthroughs: 1 (2 recommended)
Number of missable trophies: 5, Dev-Diary, Ay Ay Ay, Super-Cosplay, Treasure Hunter and "I got this...".
Glitched trophies: None
Does difficulty affect trophies?: Yes, you need to complete the game on Hard
Do trophies stack?: Yes, the three difficulty trophies stack
Do cheat codes disable trophies?: N/A

Introduction

Zombeer is a first person shooter that takes place at a college campus. The main story has you rescuing your girlfriend who has been kidnapped by the schools Chancellor. You start out waking up in a bar only to find out that you have been bitten by a zombie and the only way to keep you from turning into one of them is to drink Zombeer. So while your advancing through the game you will need to keep and eye out for more Zombeer to drink to keep yourself from turning. The game dose have one unique feature in that there is a meter in bottom of the screen that shows what your status is. If the meter falls all the way to the left you will turn into a zombie (game over) if it goes to far to the right you are drunk (game over). So you will need to keep an eye on this as you play.

Roadmap

Step 1: Complete the game on Easy while getting all of the collectibles and not getting Zombiefied or Drunk. Also only using the dildo to kill zombies.

During this step you will unlock most of the trophies for the game. You should follow the notes I have in the second post to avoid missing any of the collectibles. If you happen to miss one then you will need to replay the entire game because there is no chapter select and collectibles do not carry over to your next play through. They all need to be collected in one play through. Also note that there is a sniper sequence towards the end of the game where you will need to kill about 15 zombies. Just play through it as it dose not effect the "Good Vibrations" trophy.

You should unlock these trophies (in order):


Zomburguer

Willy's plan

Super-Cosplay

Ay Ay Ay!

Vendetta!

Dev-Diary

Treasure Hunter

"I got this..."

I survived!

Good Vibrations!

Step 2: Complete the game on Hard.

This time you will speed running through the game because the zombie/drunk meter will be moving much faster. Having played through the game once already you should have a good idea of what to do. Also you will now be able to use the other weapons (nail gun, octogun) to help you dispatch zombies quicker.

Trophies to unlock in this step are:


My Hero!

Heavy Metal Man


Step 3: Clean up

This step should not be needed...but if you missed any collectibles or the "I got this" trophy start a new game on easy and knock them out.



Tips
Vending Machines: To hack a vending machine you need to press when the bottle is pointing at a green circle three time in a row. There are loads of machines through out the game hacking them will be helpful when you get low on Zombeer. If you happen to hit a purple circle a small wave of zombies will be dispatched. Don't fight them just keep retrying to hack the machine until you get it, then kill the zombies.
Electricty: Once you get the rubber boots you will be able to stand in the electrified pools of water in the game and not take damage. lure zombies into the water and they will be killed, so you can save ammo.
Sniper: The sniper sequence can be a little glitchy. A few times the gun would not zoom in or out making is very difficult. If this keeps happening to you quit the game and restart/continue. The zombies run at Jessica in a straight line so hold the cross hairs ahead of there path then shoot as opposed to chasing them with the crosshairs.

Zombies types: Cheerleader: Always make them your top priority
Borat: This Zombie will fill your drunk meter quickly, so try to take him out from a distance.
Mime: These ones have a powerful scream attack that deals a lot of damage. Try to flank them while there screaming then headshot.
Normal: Headshots are most effective.
Guide


I survived!

Finish the game in Easy difficulty
See "Heavy Metal Man"



My hero!

Finish the game in Normal difficulty
See "Heavy Metal Man"


Dev-Diary

Find all the developer diaries

There are 13 of these that you will need to find. Almost all of these are out in the open. Check the 2ed post for my collectible walkthrough.



Find all the "men in thongs" figures


You will need to find 10 of these for this trophy. A few are a bit tricky so check out the collectible walkthrough in the 2ed post.


Find all the cover pages of Jessica


There are 10 of these as well. Check out the collectible walkthrough in the 2ed post.



Willy's plan

Get all the sniper rifle parts

Story related can't be missed. There are 4 pieces. They are all in the open and need to be picked up to advance.



Zomburguer

Grind up three zombies in the turbine

Story related can't be missed. Near the start you will see this giant airplane engine. You have to lure 3 zombies to follow you near it so they get sucked up then it will blow up clearing a path for you to advance.



Vendetta!

Crush the president in the stadium

Story related can't be missed. At the end of the game this is final battle. You will need to fight three waves of zombies that will increase in strength. After you complete each wave you need to go to the highlighted circle and throw a zombie gernade at the president. It's a quick time each time down on the
then
. It's the same each 3 times.



"I got this..."

Complete the game without getting zombified or drunk

To get this trophy you need to complete the game without getting a "Zombified" or "Drunk" Game Over screen. Play though on Easy and this shouldn't be a problem. Just be sure to be a nice supply Zombeer on hand and avoid getting to close to any Borat zombies.



Treasure Hunter

Find all the collectibles

You need to get all 33 of the games collectibles in one play through to unlock this trophy. Collectibles do not carry over to any following play throughs and there's no type of chapter select. There is collectible walkthrough in the 2ed post.


Heavy Metal Man

Complete the game on Hard difficulty

This trophy is basically just speed running through the game. The Zombie/Drunk meter moves very quickly in this mode so your going to need to be quick and keep a good supply of Zombeer on hand. Hacking vending machines is very helpful so try to do that as often as you can. Other then that I believe the zombies take the same amount of damage as the easier difficulties. Just keep moving and advancing to the next check point as quickly as possible.



Good Vibrations!

Complete the game using only the dildo

This one should be done on easy difficulty. Try to aim for the head (no pun intended). There is a sniper sequence, just play through it will not effect this trophy.