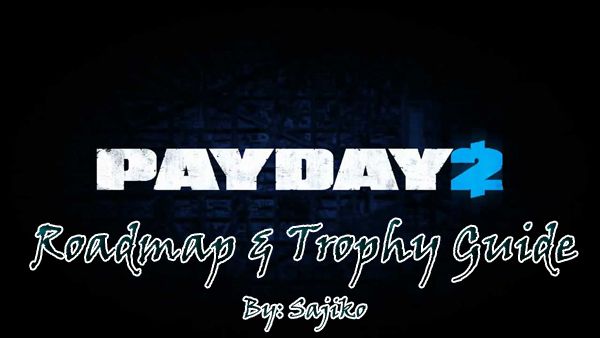 Please do not copy or replicate any of the work posted on this thread elsewhere. If you want to use any of my material form this guide please contact me with a request.

ROADMAP
Overview:
-
Estimated trophy difficulty
: 6/10 (Personal Estimate)
-
Offline/Online
: 44 [32
, 7
, 4
, 1
] (Some trophies seem impossible offline)
-
Approximate amount of time to
: 40-50+ Hours
-
Minimum number of playthroughs needed
: 1+ of each Heist
-
Does difficulty affect trophies?
: No (But some Heists are only Pro Jobs)
-
Number of missable trophies
: None
-
Glitched trophies
: Unknown None
Special thanks to user DarkMaizena for figuring out most of the trophies related to this game and helping me write this guide
INTRODUCTION
Get ready to go deeper into the criminal underworld as you explore a whole new set of new Heists with PayDay 2! If you liked the first game you should like the sequel but there are a number of noticeable changes. First be aware that you cannot pick any heist at anytime, you will have to find heists through Crime.net as they show up. It's tedious but backing in and out or starting a heist offline and backing out right away will change the heists available. Also, there are no challenges to complete in this game which makes
STEP ZERO - THINGS TO BE AWARE OF BEFORE STARTING THE GAME
This game has a long and heavy grind to level 100. It requires 23.3 million XP to get the
Most Wanted
trophy which is A LOT of grinding of the Rats Day 3 Bus Stop mission. In addition, you should have a solid group of 3 other players with mics to play with as it makes getting trophies on some heists significantly easier. Also some heists are easier solo while other heists will only have their respective trophies unlock for the host (meaning you'll probably have to run it 3 more times for your co-op partners if you do it with them). See the trophy guide for more information regarding these trophies.
The "Pro Jobs" are a special kind of variation on a normal job or a unique job all in itself which prevents you from restarting the level and if you fail the heist will end. The benefit to Pro Jobs is they award you with more XP and have no level limit penalty.
Also, backing up your save to USB and respecing your class for certain trophies is a huge time saver. Since cash runs out fast until you hit level 80+ this will be an effective method to keep cash for weapons and higher tier skills as you level up instead of wasting them on constant respecing.
STEP 1 - Get to Level 13 and grind to level 40
Play heists and level up, don't worry about going for specific trophies. The reason you want to hit level 13 is because it unlocks the Rats mission which you will be using to grind all the way to level 40 or 50.
STEP 2 - Start playing the heists for trophies
This is where you can start focusing on getting each heist's specific trophy. You can grind and level up more to make things even easier but level 50 will give you more than enough skill points to complete any heist's trophy requirements. This is because you are usually focusing on one class for each trophy. This is where the save back up / reloading trick comes in handy.
STEP 3 - The long grind to level 100
You'll most likely get every trophy in the game WELL before level 100. As noted in step zero this requires 23.3 million XP. The last few levels (90+) require over 700k each to level up. In this step you will be grinding Rats' Day 3 Bus Stop mission over and over using the "exploit." See the
Most Wanted
trophy for how to do it in the most efficient manner.
Click here to view the article