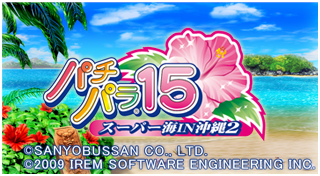 パチパラ15 ~スーパー海IN沖縄2~ 
(PACHI PARA 15: SUPER SEA IN OKINAWA 2)
Estimated Difficulty: 4/10
Estimated Time to Platinum: 100-250+ Hours
Minimum Number of Playthroughs Required: 50~125+ 2-hour sessions
OverallTrophies: 1(P) 4(G) 11(S) 24(
Online Trophies: 2 (S) 2( (Leaderboard Ranking, 1~10 Wins & 50 online battles)
Sakura DLC : 1(G) 2(S) 3( = 「1800¥」via PSN Japan Store
Glitched Trophies: 0
Missable Trophies: 0
Introduction :
Hello , my name is MainComptonese and welcome to my 1st Road Map and Trophy Guide for Pachipara 15 Super Sea in Okinawa 2 . First off , this a perfect game for any novice importer and requires no Japanese to understand how to play.

How to play pachinko :
Select a machine, select a number from 101 ~ 120 , Set the ball speed to 50~75% Approximately on the mid yellow area ; there should be a line to see where to set the marker . Then, choose a scenery to unlock scene tiles. Scene tiles are moments where something took place and there is an album of 400+ possible scene tiles for each machine. Once you choose the scenery, leave it running and hope you have some luck! Remember, everything is random and based on luck!

Button configuration scheme while playing Pachinko :
: = will change scenery (Marine , Sea , Beach)

: = during reach, apply brakes to stop for a reach chance.

: = cancel (menus only)

: = will stop the machine / pachinko balls

: = will open the stat chart on picture tiles, combos, reaches, etc .

: = will decrease the spin slot speed power.

: = will increase the spin slot speed power.

: = zoom in

: = zoom out
:rs: = angle pachinko machine position (if clicked, reset position)
:ls: = move pachinko machine position (if clicked, reset position)
Machine Types :
A) Middle-Type (Pink)
*1/359.5タイプ (1/359/5 or 1/315.5 Type)
*1/315.5タイプ (note : much nicer than 1/359.5タイプ!)


?Pachi (Yellow)
*SAHS
*SAKS

C) Sakura [DLC]
*桜ミックス (Sakura Mixes)
*桜ライト (Sakura Lite) +(MY FAVORITE MACHINE!!!)
*桜ビッグ (Sakura Big)


Scenery Types : (Press
: to change scenery)
A) MARINE MODE :
* (This is where, Marine~chan is playing with the sea creatures and sometimes riding dolphins)


SEA MODE :
*(Nothing but the sea)

C) BEACH MODE :
*(My toes have sand in them!)


TO ALL SAKURA DLC OWNERS:
You will have a better chance at the SAM REACH / サムリーチ (S) Trophy .
If no DLC, then be prepared for a long week or month to unlock this trophy . Hence, why I would say 250+ hours would be the maximum wait to platinum


TROPHY BREAK-DOWN :
Trophies consist of getting reaches, completing 30 ~ 200 scene-tiles of the 3 machines, 50 Combos of the Pink and Yellow Machines only, playing online and against CPU and finally, unlocking all Title Screen backgrounds and all Customized Backgrounds .You can be away from the PS3 and still unlock trophies, just depends on the machine, speed set and luck !

YouTube - CR

FAQS :
How many types of "Lucky" are there ?
1.Lucky
2.Super Lucky
3.GREAT LUCKY!

What are the 2 battle types against an opponent (VS CPU / Online)?
1. Card-Battle - It's based on combos and how many tile scenes combined to unlock on that scenery.
2. Pachinko amount total - Based on how many pachinko balls were accumulated at the end of the game.

What is a Reach and a round?
YouTube - PachiPara 15 - Animation Round
ROADMAP :
1. Complete all tutorials to unlock :
パチンコ博士 (Pachinko Graduate)(


This is on the Left-bottom section of the main menu. Quite quick, just press
: on all messages or you can read them if you prefer? Takes 1 ~ 2 mins.


2.How to unlock trophies:
*Choose シミユレーター(simulator)on the main menu
*Start a game on 実戦モード (Real Battle Mode)
*You can start the game (Top) or either read the rules (bottom option.)
*Choose to reset pachinko reach data (doesn't matter)
*Choose Machine , Machine # and Scenery

*(Optional: In the 2-hour session)
press
: and go to "カスタマイズ" (Customize) ;
Choose スキップ大当たり (SKIP Round) to "on" and SET "4" pachinko slot to spin off.)

While playing, you can move to 3 scenery areas in Okinawa like: Marine mode, Sea Mode and Beach Mode. These 3 areas will have different picture tiles to choose from and all three trigger Rare events too !

You should unlock a small amount of trophies on your first 2 hour session . I unlocked 12 trophies on my first 2-hour playthrough. After your first 2-hour match is completed (must be connected to PSN) click "はい" ("yes") as you are confirming that you want to be added to the online leaderboard.
A) ランキング初心者 (Ranking Beginner) (
any kind of Reaches :
初リーチ [First Reach] (

マリンちゃんリーチ [Marine Chan Reach](

ワリンリーチ [Warin Reach](

魚群リーチ [Fish Reach](

タコ当たり [Octopus Reach](

ハリセンボン当たり [Puffer Reach](

カメ当たり [Turtle Reach](

サメ当たり [Shark Reach](

エビ当たり [shrimp Reach](

アンコウ当たり [Angeler Reach](

ジュゴン当たり [Manatee Reach](

エンゼルフィッシュ当たり [Angel Fish Reach](

カニ当たり [Crab Reach](


C) Additional trophies that will pop-up while playing 2-hour mode:
Collect any of the above mentioned "Reaches"
ハイビスカスフラッシュ [Hybiscus Flasher](S)
3連チャン(
~ 5連チャン(S) (3~5 Chance in row)
演出コレクション_30枚 ~ 演出コレクション_200枚 3(
/ 2(S) / 1(G) (Middle Type 30 ~ 200 scene tile Collection)
演出コレクション(遊パチ)_30枚 ~ 演出コレクション(遊パチ)_200枚 3(
/ 2(S) / 1(G) (?Pachi 30 ~ 200 scene tile)
演出コレクション_30枚 ~ 演出コレクション_200枚 3(
/ 2(S) / 1(G) (Sakura Version 30 ~ 200 scene tile Collection)
サムリーチ (Sam Reach)(S)

You can also unlock these trophies, too while playing Card Battle [カードバトル] and pachinko money battle in the CPU / online modes. However, Sakura DLC is available only on the 2-hour Sessions and Online battles.

3. Play Free mode for one trophy :
Free mode (フリーモード) will unlock Customized Background pictures for 背景カスタマイズコンプリート (Background Customize Complete)(S), but will not unlock other trophies!!! This mentioned below will help unlock the 2 Sam customized background wallpaper images; credit to Hadzuki.

How to get
1. Choose Left upper option : 実戦モード
2. Choose upper option : フリーモード (Free mode)
3. Choose Pachinko Machine : Pink

Game start
4. Push : 4~5 times (increase your balls)
5. Adjust shoot power
6. Push :
7. Choose option : プレイ設定

8. You change settings; change some option like this list:

Jack pot rate = 1/1 (100%)

Speed up = always

Game speed = 5 times

Jackpot scene = skip




Option translation
大当たり = JackPot
演出 = Scene
大当たり演出 スキップ = skip jackpot scene
大当たり確率 = jack pot rate
ゲーム速度 = game speed
5倍 = 5 times

9.Go away from display around 8+hours.

You can get wallpaper that concerns Sam reach but you cannot get Sam reach Trophy, because you do this method in Free mode.
背景カスタマイズコンプリート (Background Customize Complete)(S)

4.Battle Mode & Online Mode Trophies
*Choose the "パチンコ勝" (Pachinko Win) on the Main Menu .
*Choose Online (2nd) or VS. CPU (1st)
*Choose Machine and Scenery

Defeat all CPU characters (you will unlock 1 Title Wallpaper image for each defeated CPU boss) for the タイトルカスタマイズコンプリート (Title Customize Complete)(S) trophy and at the same time you can work on building up your 50 Pink / Yellow Machine Combos and 30~150+ picture tiles . You won't always win against a higher rank CPU Boss, but it builds up a chance to unlock scene tiles and Combos. CPU Matches range from 10 ~ 30 mins . I would highly recommend starting against the CPU and online modes.

With the online mode you will receive パチンコ勝負_オンラインで初勝利(
and パチンコ勝負_オンラインで10勝 (S) (Pachinko online 1 ~ 10 wins). Then after completing the 10 online wins you need 50 online battles; for every 10 battles you will unlock 1 new title screen background picture and will help unlock タイトルカスタマイズコンプリート (Title Customize Complete) (S) and it's required.