Stifled - VR Optional
Trophy guide.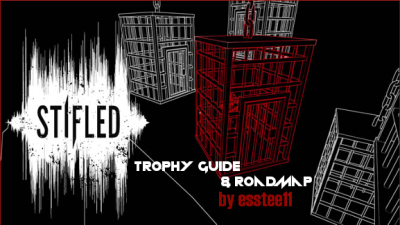 Trophy Guide by EssTee. Banner by Tuff.
Estimated trophy difficulty: 3/10
Offline trophies: 26 (1 6 10 9 )
Online trophies: 0
Approximate amount of time to platinum: 2-5 hours
Minimum number of playthroughs: 1.5
Number of missable trophies: None because there is chapter select.
Glitched trophies: 0
Does difficulty affect trophies?: No
Do trophies stack?: Yes. EU & NA.
Do cheat codes disable trophies?: No cheats.
Additional peripherals required?: A mic. VR can be used but is not required.
Stifled is a multi award winning sound based stealth thriller, compatible for PSVR (or without). Reveal the environment around you by generating sound waves using and throwing items you find, or by using your own voice via the mic. But tread carefully... if you make too much noise you might attract some unwanted attention... they hear your fear...
This interesting focus on echolocation exploration makes for a very unique and enjoyable gaming experience. The game is half a walking sim in coloured scenes where nothing can hurt you, and the other half is black and white scenes where you have to silently navigate around some enemy encounters. There's nothing too much to worry about difficulty-wise here, it's a typical VR game that is fairly simple and quick to complete, with a straightforward trophy list. It's just a well-made game that I would recommend to all.
Useful links:
Stifled Full Game &Trophy Guide Video:
IMPORTANT NOTE: PLEASE READ THE VIDEO DESCRIPTION!
It is not a very long game; my full game playthrough here obtaining all collectibles and miscellaneous trophies took 1 hour 5 minutes. (Add about 40 minutes for the second half playthrough.)
Step 1: Scream!
Plug in any old mic, from the title menu go to 'mic calibration' and calibrate, start your game and as soon as you get control of your character have a good old scream down the mic! This will get you the
Screamer
trophy.
Now return to the main menu, and adjust your settings ready for your
Stifled
full playthrough. Via 'mic calibration' turn your mic off, and I suggest to make it a little easier to see during the dark sections to turn the gamma up to max via the options menu.
Step 2: Complete the game while never pressing R2. Grabbing all miscellaneous trophies. Getting all collectibles if you wish. And selecting 'NO' for the final option.
There are 2 separate sound based trophies. If you complete the game without ever using your voice pulse with R2, (or mic), you will get the
Stifled
trophy. Everything is fine and easy though as you can throw objects to produce sound instead. Chapters 1, 4, & 6 are very easy and you wont need to produce any sound at all, making the clean up for the second sound based trophy for throwing objects
Hands Free
much faster, only requiring another half playthrough to finish off.
There are not many collectables in the game (24 notes and 11 dolls), and they are virtually all in plain sight. It is not necessary to get them all in your first playthrough as you can just mop up any you've missed via chapter select. But if for ease and speed you want to see all collectables locations I have added timestamps for all of them in my walkthrough video.
Because the final chapter, chapter 6, does not need you to make any sound, you don't have to reply that particular chapter for the alternate sound trophy, so do remember to select 'NO' when presented with the option near the end, in order to obtain the
True End
trophy, so you wont have to replay the chapter.
There are only a couple of miscellaneous trophies, so see the trophy descriptions below for what you will need to do to obtain them.
In this full playthrough you will earn every single trophy except for one.
Step 3: Replay chapters 2, 3 & 5 without throwing any objects.
Now all you have left is one trophy, the
Hands Free
trophy for not throwing any objects, so go to chapter select and just quickly replay these 3 chapters:
Chapter 2 - Crash
Chapter 3 - Orphanage
Chapter 5 - Ship
During the enemy encounters this time just use your voice pulse with R2 instead of throwing objects.
Make sure to not accidentally pick up any unnecessary objects, as dropping them will count as them being thrown. But if this does happen its not a big deal, you can just press 'reload checkpoint' and it will restart you not far away.
And now you're done! Congratulations!
This post has been promoted to an article