PixelJunk VR Dead Hungry.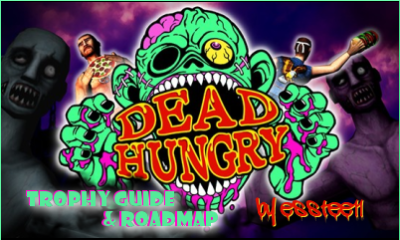 Guide By EssTee, Banner By Tuff.
Estimated trophy difficulty: 4/10.
Offline trophies: 21 (1 9 4 7 )
Online trophies: 0
Approximate amount of time to Platinum: 7-10 hours.
Minimum number of playthroughs: 1
Number of missable trophies: 2 - Two-Faced & Circle of Life.
Glitched trophies: 0.
Does difficulty affect trophies?: No
Do trophies stack?: Yes, EU & NA & JP.
Do cheat codes disable trophies?: No cheats available.
Additional peripherals required?: PSVR headset and 2 move controllers needed.
Dead Hungry is a fun and fast-paced VR game developed by Q-Games, the developers of the PixelJunk series. In this game, you own a food truck and make dam good burgers, your burgers are so dam good they have the power to bring zombies back to life! That is your job, revive zombies to human form by satisfying their hunger, to pass through the levels. The game concept is simple, its a cooking sim, that keeps you on your toes. There is plenty of light humour chucked in so the games emphasis is on the fun factor as opposed to horror but be warned, it certainly can get frantic!
Step 1 - Get 3 stars in all 30 levels.
For the majority of the levels you shouldn't have too much problem getting 3 stars, if you miss a 3 star just replay the level and stall zombies for longer until you have made them extra-large burgers and that will be all you have to do differently. I will list in the Trophy Guide my 3 star pass scores so you have a target to aim for to guarantee all stars.
The only harder level is the final level but again, with using my simple stated strategy of stalling zombies to make sky high monster burgers, you will pass it as long as you move fast! If you would find a video guide more useful for level 30, I have made one for you
HERE
!
Key tips:
1. ONE hit will kill you, no matter how big or small the zombie is. If this happens you will have to restart the level.
2. Be fast and vigilant. I.e if there is space on the grill or in the oven or in the fryer, use it. Keep a constant cooking cycle going.
3. 3 stars are awarded only on score, time doesn't matter. Take as long as you like to net big scores.
4. Bigger burgers mean bigger points but don't use the same food item more than twice in a row. Variety is the spice of life!
5. A 'complete burger' nets you bonus points so try to make sure every burger has at least a patty, lettuce, cheese, tomato, lid.
6. OVERKILL IS IMPORTANT to get you more points for the 3 stars. Don't just do the minimum to knock out their hunger gauge.
7. Drinks have zero point value. Only good for stalling zombies for time. Just keep on making the drinks so you have a pile of them on the left available to grab whenever you need them if you get overwhelmed. Not useful in burgers.
8. The same as a drink, if you want some extra time throw a bun lid at a zombie which is just 1 point but will keep them busy for a bit.
9. Similarly, some food items will go manky and black, this is also useful for buying time, throw them at the zombies and it will make them sick. Do not use black items in your burgers.
10a. Use the non-food items in your food truck for easy to grab extra points that don't need to be cooked.
10b. Your best non-food items are the metal fan/air vent worth 200 points, that is boss food. The radio for 100 points and the 2 Chinese hanging lanterns are 100 points each.
11. there will be 3 boss stages. Level 10 - 1 boss. Level 20 - 1 boss. Level 30 - 2 bosses.
12. If you're not going to feed a boss immediately it is best to just ALWAYS keep them busy with a drink or bun lid or lettuce or anything, as i found they would hit me pretty quick so it wasn't worth taking the chance.
To give you an idea of what you're working with, a list of all items point values can be found
HERE
.
Trophies you will earn in this step are:
Rolling Out
Three-Star Restaurant
Dance Fever
Dirty Dancing
Dance Dance Resurrection
To Serve Man
The Gold Standard
Where's The Beef
Pieces of Flair
Junk Shop
Burger Battalion
Step 2 - Miscellaneous trophy clean-up.
If you haven't got the miscellaneous trophies already, now is the time to mop them up. The miscellaneous trophies are all pretty easy: A very tall burger for the
Mega-Size Me
trophy can be quickly and easily achieved by just stacking a bunch of drinks up in a burger, since you're going be making huge burgers anyway to defeat the bosses so you may naturally get
21st Century Buns
&
The Last Dance
but if not, they can be achieved without too much difficulty by building a burger to the ceiling, using mainly the normal food items and then chuck in a few of the flat non-food items like the metal fan and paper fan for good measure.
Only 2 trophies are technically missable:
Two-Faced
&
Circle of Life
. This is because they require one-use items but if you have accidentally used the items already, all you have to do is replay the corresponding levels detailed in the Trophy Guide and once you have got 3 stars again, it will unlock the bonus item again.
Trophies you will earn in this step are:
Thrash 'n' Hash
Mega-Size Me
21st Century Buns
Night Shift
The Last Dance
Two-Faced
Circle of Life
Patty Pitcher
Step 3 - Small grind to 1,000 zombies.
This will be your last trophy. I recommend replaying level 18, which is exactly 2 minutes long and has 12 of the weakest schoolgirl zombies. It will take you no longer than 1-2 hours but just to be safe, I recommend when you've completed the level, to press continue, which forces the save icon, then press 18 again. I did it this way and had no problems. It only takes a few extra seconds. Another player may have had problems with it not saving when they pressed the replay button instead of the continue button.
Thousand Points of Wight
Holy Tiger Style
Congratulations!
This post has been promoted to an article